Riverside tranquility, comfort and convenience
With resplendent sunsets, rainforests and wildlife, indigenous cultures and friendly locals, Sabah is a renowned paradise on the Malaysian part of Borneo island. Whether you are a business traveller, a family on vacation or someone looking for that elusive weekend escape, Oceania Hotel has the right room for you.
Oceania Hotel is a new 3-star hotel situated in the heart of beautiful Kota Kinabalu. Located just 10 minutes drive from the airport and few minutes drive to the shopping malls, dining destinations, nightlife and the commercial district, this hotel is a perfect mix of convenience and tranquility for all tastes and travellers.
The hotel's concept is water-inspired, with aquatic and maritime themes integrated into its colour scheme and décor. Accented in soothing tones of green and blue, the guestrooms welcome its guests with its ambience of soothing tranquility.
Offering all guests superior services, a broad range of facilities and convenience, Oceania Hotel is committed to ensuring that every guest's stay is as comfortable as possible.
At Oceania Hotel, the well being and comfort of our guests are important to us. We are proud to announce that all our rooms are smoke-free. Smoking area is available at the open concept Sky Garden or outside the hotel lobby.
Promotion
Travelmyth Awards 2022
Recognition of Excellence Award 2017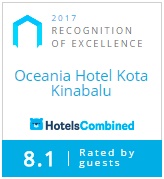 Traveller's Choice Award 2014